Book Your Mooncake Delivery Before The Peak Period
31 July 2023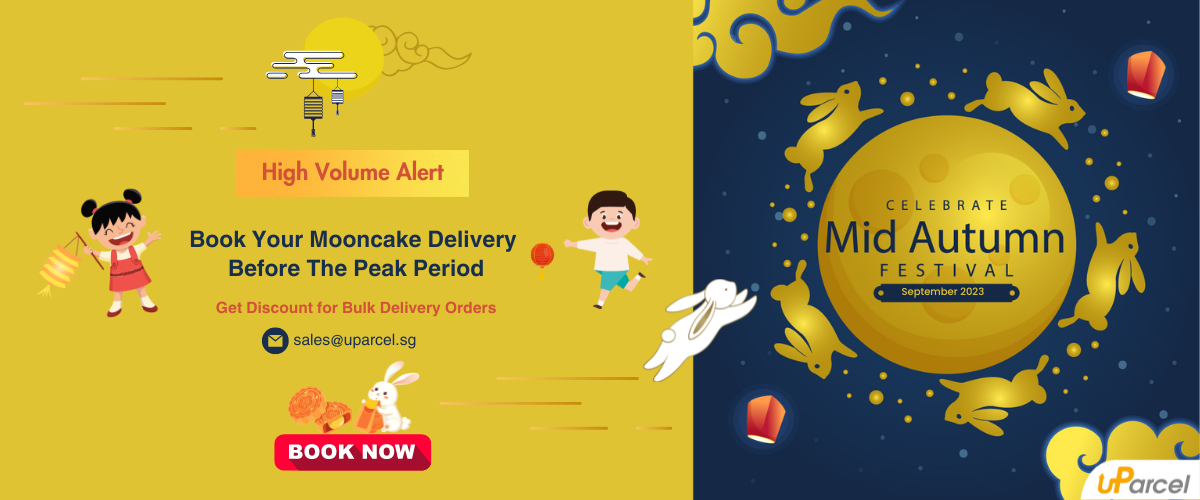 ---
As the Mid-Autumn Festival approaches, we at uParcel are gearing up for a busy and exciting time. We understand that mooncakes are an integral part of this cherished tradition, and we want to ensure that you have a delightful and hassle-free celebration. To make this happen, we encourage all our valued customers to book their mooncake deliveries well in advance to avoid any last-minute inconveniences.
Why Book Early?
The Mid-Autumn Festival is a time of joy, togetherness, and of course, indulging in delicious mooncakes. As the festivities draw near, the demand for mooncake deliveries skyrockets, making it increasingly challenging to fulfill last-minute requests. By scheduling your delivery ahead of time, you ensure that your mooncakes arrive on time, preserving the spirit of the festival and allowing you to focus on the joyous moments with your loved ones.
Exclusive Discounts on Bulk Orders
For those of you planning to celebrate in grand style or looking to share the sweetness of mooncakes with friends, family, or colleagues, we have fantastic news! Our Sales Team is offering exclusive discounts on bulk orders. Whether it's for a corporate event, family gathering, or simply to spread the festive cheer, our bulk order discounts make it easier and more affordable than ever to share the joy of mooncakes with everyone around you.
Contact our Sales Team Today!
To take advantage of the exclusive discounts on bulk orders, all you need to do is get in touch with our Sales Team at sales@uparcel.sg. They will be more than happy to assist you, provide you with the necessary information, and ensure that your bulk order is handled smoothly and efficiently.
Reach Out to Our Customer Service:
Should you have any other inquiries or require more information regarding your delivery, our dedicated customer service team is here to help. You can reach them through our email express@uparcel.sg, and they will be prompt in addressing your concerns, making sure that your entire mooncake delivery experience is seamless and enjoyable.
The Mid-Autumn Festival is a time of traditions, family, and sharing happiness. Let uParcel be your partner in making this festival even more special by ensuring you have your mooncakes delivered on time and with ease. Don't wait until the last moment; book your mooncake delivery early and take advantage of our exclusive discounts on bulk orders. Reach out to our Sales Team for more details and let us help you make this Mid-Autumn Festival an unforgettable one!
---